I came across this salad when I was previously volunteering at Free-to-Feed. Free- to-Feed is a not for profit enterprise that has a purpose of assisting people seeking asylum to:
Seek meaningful employment opportunities based on their existing skills and experiences.
Promote social inclusion and break social isolation which is often challenges by these new arrivals.
The advocacy delivered by Free-To-Feed comes in a variety of food-oriented initiatives such as running food experiences and workshops. Anytime when I came to the store, I felt like  I was in a different country. The aromas of the beautiful spices, songs, music, laughter that was filled with vivacity when preparing meals all the to way dinning and listening to the cook's story and them sharing about their culture.
All of these values resonate with me reminding me as to why I am passionate about food, community services and working with CALD communities. (Ok now onto the recipe).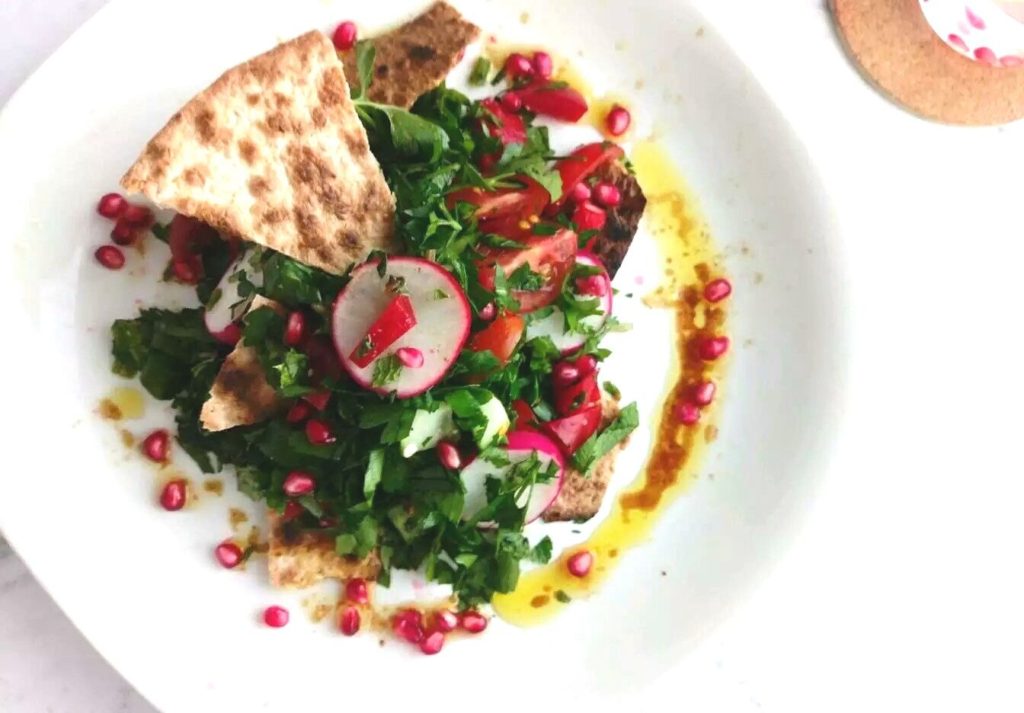 Fattoush is a salad that is well recognised in the Middle Eastern community. This is basically a "bread salad" that is said to originate in Northern Lebanon. Lebanese farmers would take the leftover pita scraps and using a bit of olive oil for extra flavour fry it. This would be mixed with whatever in-season vegetables and herbs that were on hand.
What I love about this dish are the different colours and textures. When preparing fattoush there are a few tips I would like to share.
To find the best produce in season.
To not use pita chips that are store-bought (there is a time a place for those amazing chips, however not in this salad). It is imperative to take time to toast the pita at home ensuring that it is well seasoned.
To not skip sumac or (pomegranate molasses which what I used in this recipe). Sumac is a special spice is made from ground sumac berries. It has a tarty flavour that is quite difficult to replicate. While you can buy this at local supermarkets, I usually go to a Middle Eastern grocery store as I get more bang for my buck and find that it is fresher.
To use the best quality extra virgin olive oil. This type of oil has a peppery and fruity taste which goes quite nicely with this salad. On the other hand, olive oil labelled "pure" has essentially undergone heat treatment and is refined by mechanical means. As a result, it lacks character and flavour.
INGREDIENTS
Fattoush salad
February 9, 2020

: 2-4

: Easy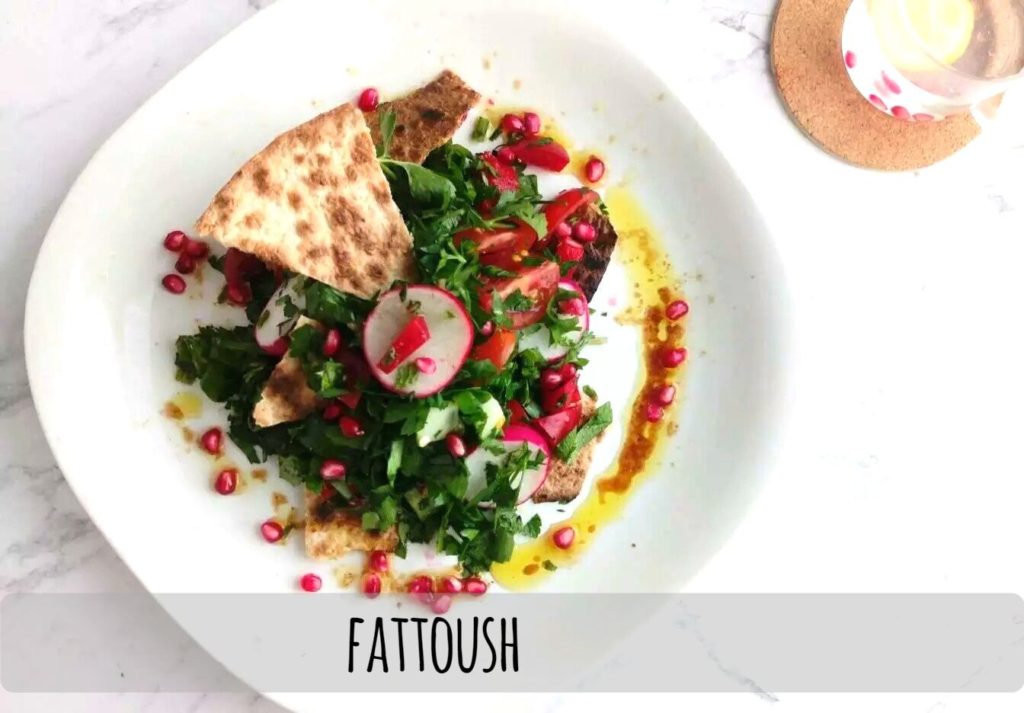 Ingredients
3 small radish, trimmed, thinly sliced
4 green onions, chopped
1 cup flat-leaf parsley leaves, coarsely chopped
1/2 cup mint leaves, coarsely chopped
1 tablespoon pomegranate molasses or sumac (see note)
2 cups olive oil
2 pieces Lebanese bread, each cut into 4 pieces
500g cherry tomatoes, halved
2 Lebanese cucumbers, halved lengthways, deseeded, chopped
1 red capsicum, chopped
Half pomegranate (to garnish)
DRESSING
1/4 cup olive oil
1/2 cup lemon juice
1-2 teaspoons pomegranate molasses
Directions
Step 1 DRESSING:  Using a screw-top jar, combine all the dressing ingredients. Shake well until all ingredients are combined using a secure lid.
Step 2 Using a saucepan over medium heat, add the oil and allow the bread to cook (in batches of 4) turning every 1-2 minutes or until golden and crisp. Transfer the bread to a wire rack allowing any excess oil to drain.
Step 3 Add, cucumbers, capsicum, mint, onions, parsley, radishes and tomatoes in a large bowl. Drizzle with dressing and toss the salad gently to combine all ingredients.
Please follow and like Thats Afrotastic: