There is a wonderful story behind this dish and it all started when I met Kemi Nekavpil.
I was privileged to hear the story of Kemi (who is also Nigerian, YESSSSSSS!!!!!) at the African gala event for young Africans. In a nutshell, Kemi is a chef and well-being advocate for Empowering women to nourish themselves and each other to create lives that make a difference. During her seminar, she shared her journey and encouraged us to invest time in our giftings, talents and passion. There are some great ideas that are waiting to be unleashed that the world still has not yet discovered. Unfortunately, (I know this happens to me a lot), fear can potentially petrify us to execute our ideas. With social media providing a platform for people's voices, ideas to be heard, it can sometimes be overwhelming when we start to compare our ideas with theirs and question ourselves as to whether our ideas are even good enough. However, I'm on a continuous journey to stop comparing myself to others when they have ideas for food and photography and celebrate when their success and remind myself everytime I use social media. With this mindset, it makes me appreciate others success and let me tell you, that has shed many kilos of negative thinking for my brain, (phew).
Another message that I took home is to empower the people others around me (whether it be at home, work, uni or even travelling). Kemi had set a living example of what is possible when we are empowered and inspired to build a solid foundation for self-love and feeling great about themselves, which then ripples into all areas of our lives.
Ok, now on to the recipe.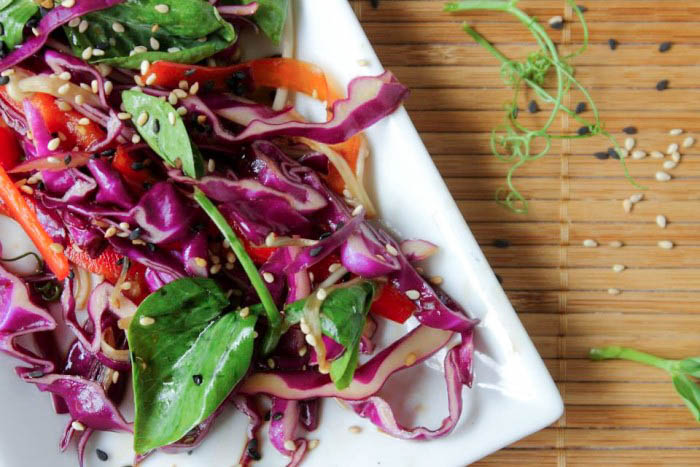 What makes a great salad is the dressing and once you learn how to make a basic dressing, the possibilities of salad become endless. Also, you can even make unique dressings and you'll never want to buy the supermarket. The advantage of making your own dressing is that it is cheaper and you can control the flavour.  This recipe was adapted from Kemi's Raw kitchen. For this recipe, the sesame oil is the key ingredient which provides that nutty and aromatic flavour to the dish. Another highlight of the dish is the diversity of colours.
The salad has a unique texture where the red cabbage and capsicum and snow provides that crunchiness and you can taste the subtle gingeriness (if that's even a word) which does not overpower the flavour of the honey or sesame oil. To top it off, I garnished the salad with both white and black sesame seeds. (If you don't like red cabbage, you can use savoury cabbage as an alternative). This can be used either used as a side dish or I would even combine this with soba noodles.
Achieving our purpose can be seen as solving a jigsaw puzzle, a piece may represent each step towards our goal of getting a career in your field or meeting a person, etc. Over time, when we strive towards our purpose with tenacity, we will combine the pieces of the jigsaw and finally see it completed and tell others how we assembled our jigsaw puzzle (dream).
RED CABBAGE, PEA SHOOT, EDAMAME, ENOKI AND SESAME SALAD
March 3, 2018
: 3-4
: Easy
An Asian inspired salad filled with diverse colours and textures.. Recipe adapted from Kemi's Raw Kitchen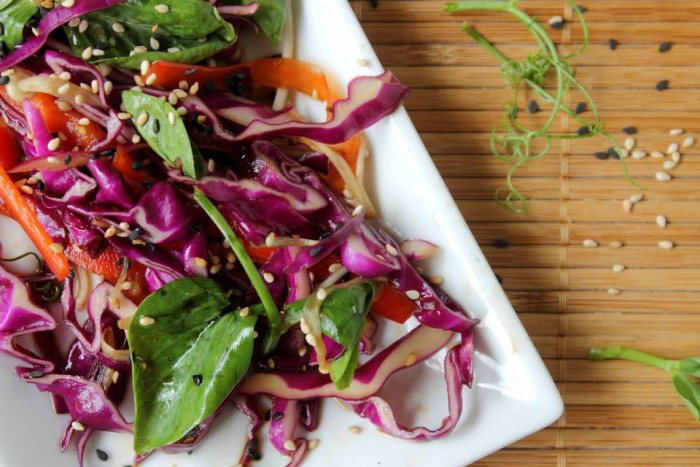 Ingredients
2 cups finely shredded red cabbage
1/2 cup peas shoot * or baby spinach leaves
2 tblspn honey
1 tblspn sesame oil
1-inch grated ginger
1.5 tblspn nama shoya (soy sauce salt- reduced)
2 tblspn sesame seeds
100g enoki mushroom*
1/4 cup of edamame *
* = Available as Asian groceries at a much cheaper price, see how to check the freshness of enoki mushroom and pea shoot
Directions
Step 1

First, remove any brown or wilted leaves on the very outside of the cabbage and cut the thick white stem (core) of the cabbage as it's too fibrous to eat.

Step 2

To shred cabbage, place the flat side of the cabbage down on the board and start making long, thin, slices into the cabbage. Be sure to keep your fingers bent when you are doing any slicing.

Step 3

Cut (Juliene) the red capsicum into thin strips.

Step 4

Using a grater, grate the ginger. cut off any yellowed or thick stems of the pea shoot and then tear into small pieces

Step 5

  Combine the honey, sesame oil and soy sauce (tamari, for gluten-free) in a small bowl.

Step 6

Combine all ingredients together along with the dressing and garnish with white and black sesame seeds.
Please follow and like Thats Afrotastic: