I opened the kitchen pantry with excitement beaming all over my face wondering what will tonight's dinner be. Immediately, the fettuccine caught my attention and I remembered an idiosyncratic incident at my parent's house. The moment you mention the word "pasta" or "fettuccine" in my family house, you're in for trouble. Faces will cringe in disgust and you will most likely hear screeching voices all over the household as if pasta is some kind of taboo that should never be said. By reading this you'll know that pasta has a pretty bad reputation in my family's house. My parents, cousin and younger brother only know of the traditional bolognese sauce and after having so many times, that they have grown tired of pasta and have made it become their nemesis and label pasta as boring.
I was thinking "Well…. wouldn't it be nice to have more variety in the way how we make food?"  (Especially pasta in my family's case).
I noticed the fresh basil, parsley and the pine nuts which were just sitting next to the glass fruit bowl. "All right, I am going to make pesto," I said to myself. Even though pesto can be bought at the supermarket, the chopping and using the mortar and pestle to grind the ingredients was quite therapeutic if you'd ask me and I love the fresh smell of basil and parsley.
The fettuccine was prepared aldanté and I mixed the pesto along with it. After, the bacon bits, chopped parsley and parmesan cheese were added on top of the fettuccine pesto which really it looked visually appealing and appetizing (along with the salad which all the different colours which made this such an interesting dish to make. I like this dish because it encourages the use of fresh herbs (lots of it), garlic which is accompanied by a nice and simple salad to compliment the dish. I usually make salad dressing, however, I bought zumo tomatoes which tastes slightly sweet and didn't need the dressing after all.
"Well pasta is not so boring afterall, " I told them which everyone was shocked with the recipe. The very same ingredient that was perceived as boring can be also seen as a great staple to have in the kitchen when we are ready for a change and new experiences. The colours in this dish reminded me to see every day as a brand new canvas to paint our colourful experiences and memories. So each day, I will carefully paint a picture that I desire to see manifest in my life, a life full of abundance, joy, positive thoughts and praise. I do this so at the end of the day I won't look at it and wish that I had painted something different.

Fettuccine pesto with bacon, parsley and Parmesan cheese
April 15, 2018
: 2-4
: Easy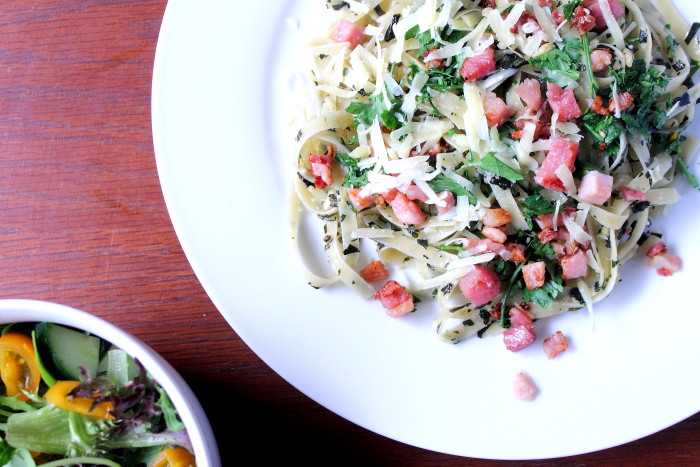 Ingredients
45g (1/4 cup) pine nuts (toasted)
1 1/2 cups fresh basil leaves
2 small garlic cloves, halved
shredded parmesan cheese
3-4 tbs olive oil
200g bacon bits
Fettuccine
Chopped parsley to garnish
Directions
Step 1

Cook and drain the fettuccine ( I prefer my pasta aldanté)

Step 2

In the meantime, toast the pine nuts gently in a frying pan or slow over no-oil until the pine nuts are golden brown in colour.

Step 3

Gently blend ingredients at medium speed whilst pouring in olive oil in a steady stream until smooth or you can use a mortar and pestle.

Step 4

 Mix the pesto with the fettuccine until you get an equal distribution of the pesto and fettuccine.

Step 5

 Add the chopped bacon first, then the chopped parsley and grated Parmesan cheese on top and serve with a salad of your choice.
NOTE:
You can place the pesto in a clean jar a cover it with a small amount of olive oil. This can be stored up to two weeks.