After buying some eggs and veggies at Queen Victoria Market this week, I passed by a few cafes selling baked eggs and decided to make this for brekkie on the weekend. This recipe is great for who loves eggs or would like to prepare eggs in a different way. My family and I can testify how addictive baked eggs can be and will definitely keep this as part of dishes for brekkie or lunch. Have a lovely weekend.
Baked eggs with tomato sauce
March 17, 2018
: 2
: Easy
Baked eggs with tomato paste, onion, bacon, parmesan cheese. Garnished with parsley.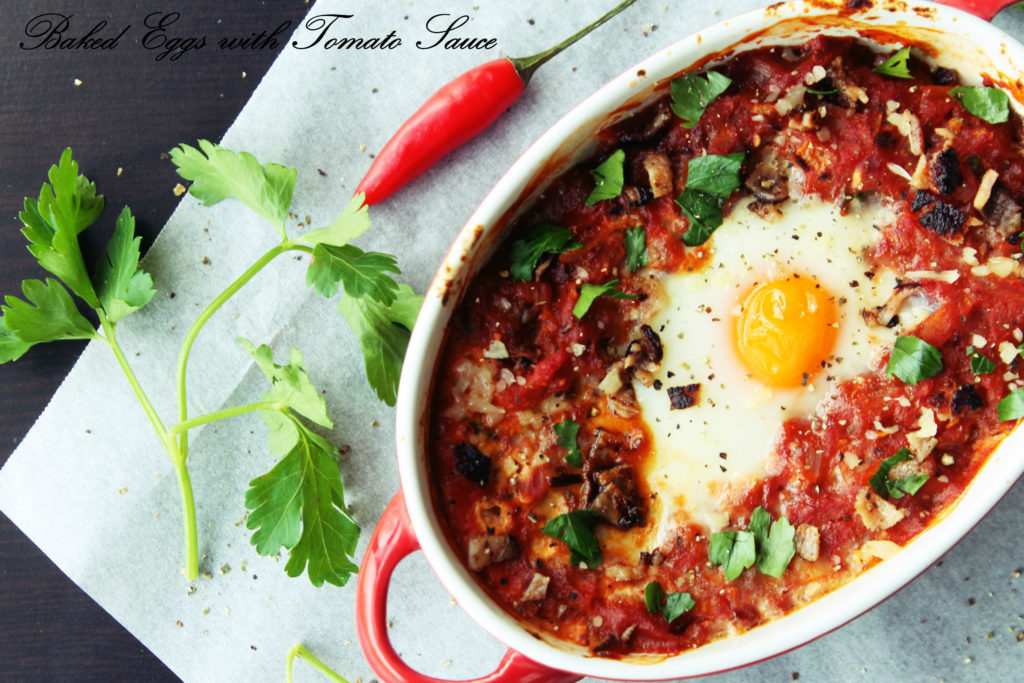 Ingredients
Serves 2
Prep time: 10 minutes
Cooking time: 15 minutes
2 rashers of bacon, cut in half
1 tablespoon olive oil
2 clover garlic, chopped
1 brown onion, chopped
1 x 400g, no salt added tin chopped tomatoes
1½ teaspoon sugar
2 tablespoons hot chilli or chilli flakes (optional)
4 eggs
½ cup fresh, finely grated Parmesan
2 tablespoon chopped fresh parsley
ground black pepper
Pinch of salt
Directions
Step 1

 In a medium fry pan over medium-high heat fry the bacon until all the fat has rendered out and it is crispy. Remove from the pan and set aside to cool. When cool, chop into small pieces.

Step 2

Preheat oven to 180°C.

Step 3

In a medium frying pan, heat oil over a medium heat.  Add garlic and onion and stir until soft and translucent.

Step 4

Add the tomatoes, salt and sugar, and simmer for 10 minutes.  The sauce will thicken and the flavours intensify.

Step 5

Divide the sauce between 2 shallow pie or gratin dishes.  Make two little wells with a spoon and crack two eggs into the wells.  Spoon a little of the tomato sauce over the egg whites.   Sprinkle parmesan over the top.

Step 6

Place the dishes into the oven and bake for 8-10 minutes or until the whites are set but the yolks still runny. Remove from the oven, sprinkle with bacon pieces and parsley and grind over some black pepper.

Step 7

 Serve  (For a vegetarian dish, simply omit the bacon – it still tastes great)
Please follow and like Thats Afrotastic: